Advancing Access and Equity this NDEAM
This month is National Disability Employment Month Awareness Month (NDEAM), and we are celebrating and advocating for the disability community all month long. Keep an eye out for REDi Chats, blogs, awareness campaigns, and more as we work toward cultivating an inclusive global workforce for all. The Rangam team will be reaching out to policymakers to advocate for disability inclusion in the workplace and share our expertise in accelerating meaningful employment for everyone.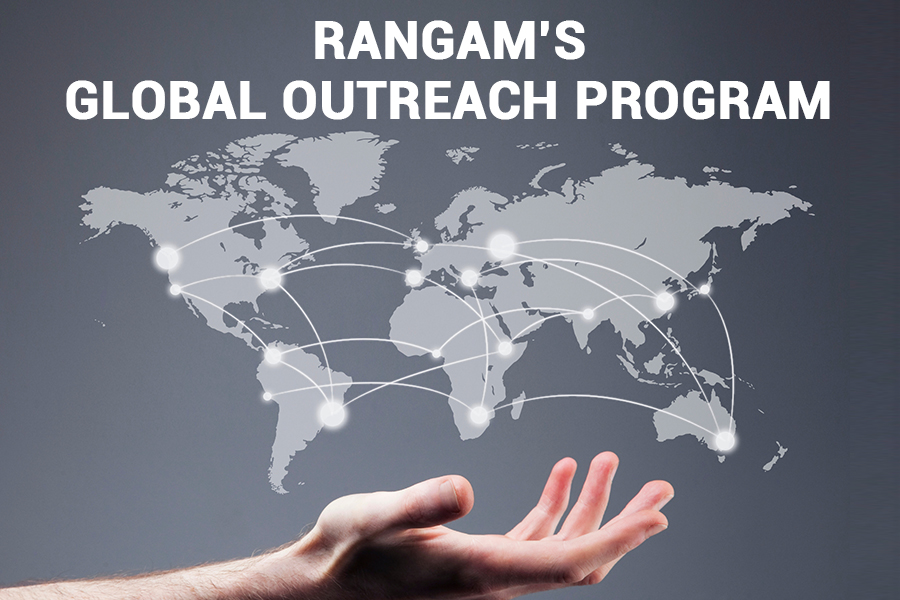 Shaping a More Inclusive and Equitable Future
Rangam is proud to announce the launch of our global outreach campaign, a dedicated effort to engage with policy makers worldwide in our pursuit of promoting diversity, inclusion, and equitable employment opportunities. At Rangam, we firmly believe that policy is a powerful instrument for driving meaningful change, particularly in the lives of individuals with disabilities within the workforce. As we conclude National Disability Employment Awareness Month (NDEAM) in October, our campaign took inspiration from this year's theme, "Advancing Access and Equity," which perfectly aligns with our core values and mission.

Our campaign is driven by our recent advocacy on Capitol Hill in Washington D.C., where we passionately championed the rights of people with disabilities in the workplace. Leveraging our extensive experience, we have identified key areas where policy changes can create a significant impact:
Rangam advocates for policies that encourage employers to adopt inclusive hiring practices, ensuring equal employment opportunities for individuals with disabilities.
We believe in policies that promote workplace accessibility, removing barriers and fostering a more accommodating environment for employees with disabilities.
Rangam supports policies that facilitate education and training programs designed to equip individuals with disabilities with the skills they need to thrive in the workforce.
We believe in strengthening anti-discrimination laws is pivotal to protect individuals with disabilities against unfair treatment.
Rangam encourages policies that provide incentives and resources to employers actively engaging in disability-inclusive hiring practices.
Through this outreach campaign, we are eager to initiate a constructive dialogue with policy makers and their teams, seeking collaborative opportunities to shape policies that advance access and equity for individuals with disabilities in the workforce. Rangam brings a wealth of experience and expertise to this endeavor, ready to share insights and collaborate on innovative solutions.
Rangam Disability Support and Employment Resources
Rangam is dedicated to supporting individuals with disabilities through our community and job seeker resources. Dive into recent blogs discussing topics from internships and job opportunities to ways employers can create more inclusive work practices.

This is a guest blog from Tanya Lee, founder of AbilityVillage. She draws inspiration from her younger brother, Charlie, who refuses to let cerebral palsy stand in the way of his dreams. Her brother is a college graduate and has recently started his career in business. Seeing Charlie refuse to let his disability limit him, Tanya believes that every disabled individual has the ability to follow their career dreams and make amazing things happen. Read more..

If you're a student with disabilities looking to kick-start your career journey in the EMEA region, we're here to help. At Rangam, we're passionate about fostering diversity and inclusion, and we want to chat with you about the unique opportunities that await you on your path to a fulfilling career. Read more...

Explore 6 key tips for using inclusive language when you interact with employees with disabilities in the workplace. When creating a welcoming workplace, it is essential to be aware of ways you can support your employees and co-workers even in small interactions. Read more..
Introduction to Rangam: Jobseekers and Inclusive Employment
Do you want to connect with employers actively seeking neurodivergent and disabled talent? This REDi Chat dives into Rangam's identity and mission, extensive support to jobseekers, and the exciting career prospects available to jobseekers. Learn how talent can become a part of our vibrant community and take the next steps toward their career goals. Watch the session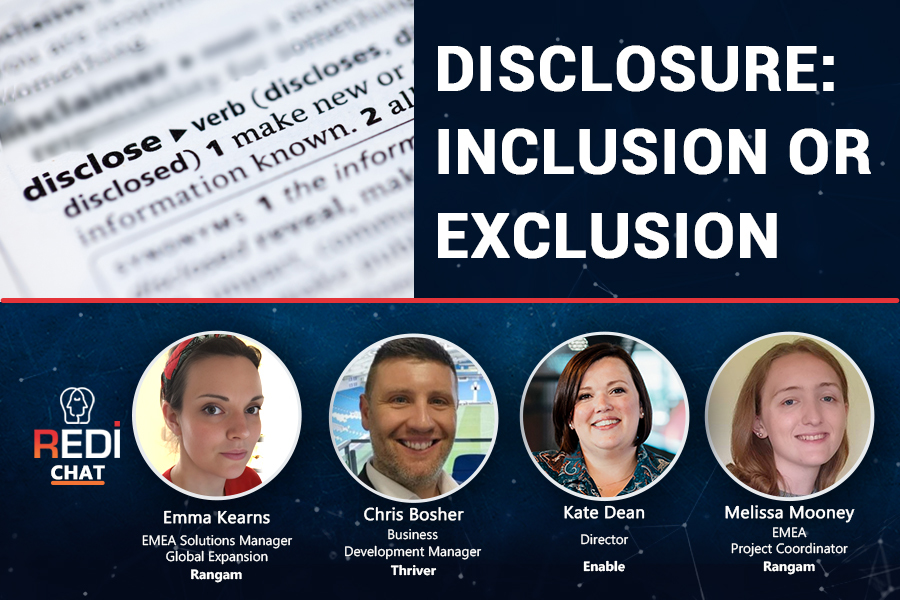 Disclosure: Inclusion or Exclusion
Brace yourselves for an electrifying REDi Chat: "Disclosure: Inclusion or Exclusion." Join Emma Kearns and three awe-inspiring humans as they fearlessly share their raw and unfiltered personal experiences of disclosure, along with jaw-dropping insights from their professional journeys. Hold on tight as they unleash powerful insights that will challenge the status quo and shatter the barriers of conventional thinking. Watch the session
Inclusive Employment for Individuals with Intellectual and Developmental Disabilities
Watch a session with our friends from the National Down Syndrome Society where they shared their life experiences and insights on living with Down Syndrome.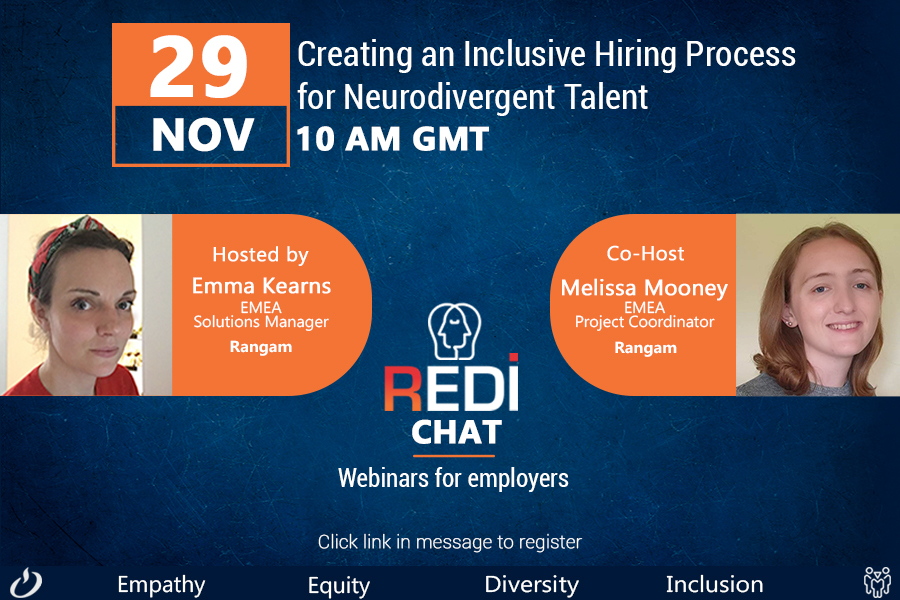 Harnessing the Power of Neurodivergence in Your Business
In this thought-provoking session, we delved into the transformative potential of neurodiversity within the corporate landscape. Our expert presenters, Maria Hamilton, Client Engagement for EMEA, and Melissa Mooney, Solution Specialist EMEA, from Rangam company, guided followers through an exploration of how embracing neurodiversity can revolutionize your business practices. Watch the session..